A University of Minnesota student was arrested on charges of drinking and disorderly conduct. According to the Twin Cities Daily Planet, the young man, who is African American, was able to participate in Minneapolis' Restorative Justice Community Action conference, which is an alternative to the traditional court system. Despite avoiding a harsh sentence, however, the young man still has an arrest on his record.
(Article continues below infographic)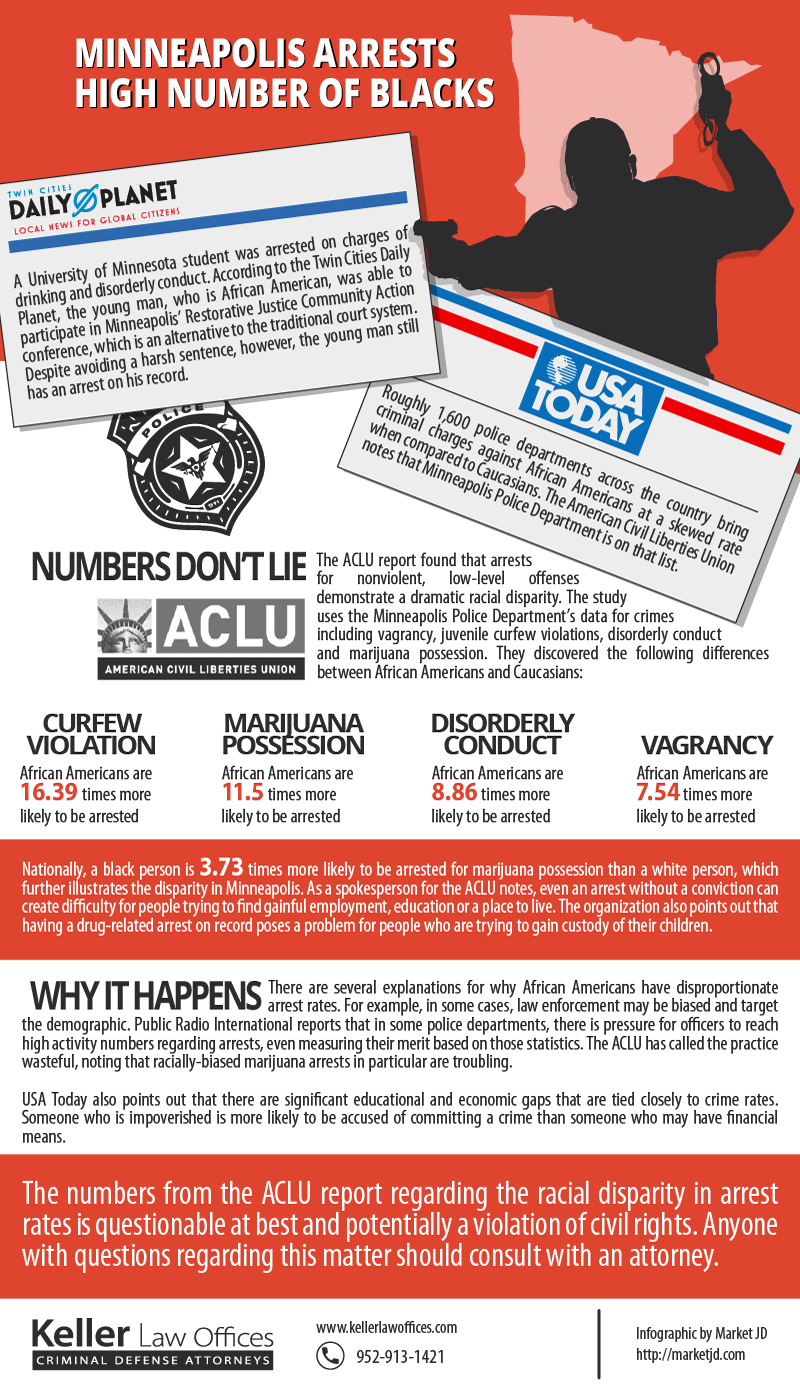 ______
USA Today released a report noting that roughly 1,600 police departments across the country bring criminal charges against African Americans at a skewed rate when compared to Caucasians. The American Civil Liberties Union notes that Minneapolis Police Department is on that list.
Numbers don't lie
The ACLU report found that arrests for nonviolent, low-level offenses demonstrate a dramatic racial disparity. The study uses the Minneapolis Police Department's data for crimes including vagrancy, juvenile curfew violations, disorderly conduct, and marijuana possession. They discovered the following differences between African Americans and Caucasians:
Curfew violation: African Americans are 16.39 times more likely to be arrested
Marijuana possession: African Americans are 11.5 times more likely to be arrested
Disorderly conduct: African Americans are 8.86 times more likely to be arrested
Vagrancy: African Americans are 7.54 times more likely to be arrested
Nationally, a black person is 3.73 times more likely to be arrested for marijuana possession than a white person, which further illustrates the disparity in Minneapolis. As a spokesperson for the ACLU notes, even an arrest without a conviction can create difficulty for people trying to find gainful employment, education or a place to live. The organization also points out that having a drug-related arrest on record poses a problem for people who are trying to gain custody of their children.
Why it happens
There are several explanations for why African Americans have disproportionate arrest rates. For example, in some cases, law enforcement may be biased and target the demographic. Public Radio International reports that in some police departments, there is pressure for officers to reach high activity numbers regarding arrests, even measuring their merit based on those statistics. The ACLU has called the practice wasteful, noting that racially-biased marijuana arrests, in particular, are troubling.
USA Today also points out that there are significant educational and economic gaps that are tied closely to crime rates. Someone who is impoverished is more likely to be accused of committing a crime than someone who may have financial means.
The numbers from the ACLU report regarding the racial disparity in arrest rates is questionable at best and potentially a violation of civil rights. Anyone with questions regarding this matter should consult with an attorney.