Cannabis-infused edibles are currently illegal in Minnesota. This will, however, change soon. The Minnesota Department of Health (MDH) has recently announced that it will add cannabis-infused edibles as a new option for registered medical cannabis patients. The new medical cannabis delivery option will take effect as of August 1, 2022.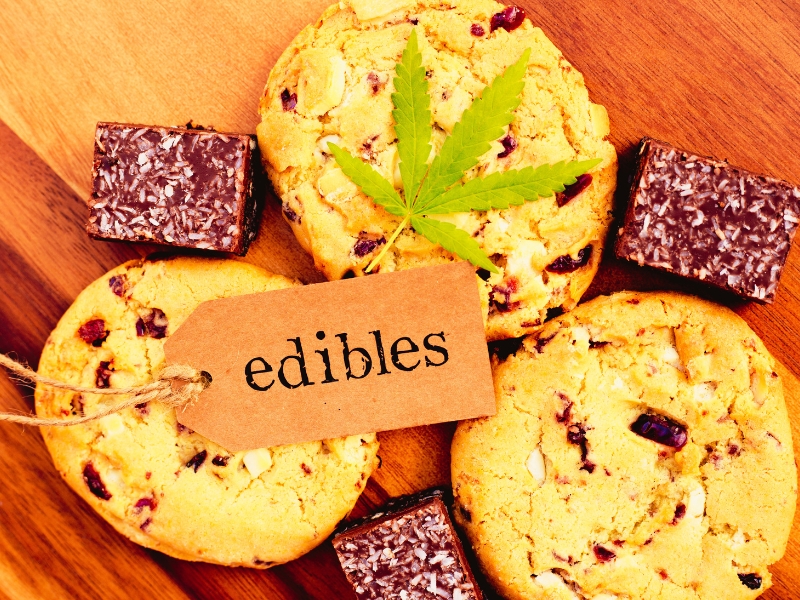 Minnesota has already started a rule-making process to develop the guidelines for labeling, packaging, safety messaging, and testing. The state currently allows legal medical cannabis in the form of pills, lozenges, topical oils, powdered mixtures, and liquids. Following approval by the Minnesota Legislature in 2021, dried raw, smokable cannabis will also be available to patients in March 2022. Rule-making for this product is currently ongoing as well. Under Minnesota statutes, marijuana is categorized as a Schedule 1 controlled substance. This classification prohibits the use of marijuana in Minnesota for recreational purposes.
What Are Edibles?
Edibles are cannabis-infused food products. These products come in various forms, including candies, cooking oils, beverages, lozenges, and baked goods. Edibles can be homemade when needed in small quantities. They can also be commercially made, especially when needed in approved dispensaries.
Homemade edibles are usually prepared by cooking or directly spreading oil or butter mixed with tetrahydrocannabinol (THC) on food. THC is the psychoactive component present in cannabis. The ingestion of edibles is rapidly growing as a popular cannabis consumption method. Smoking, however, stills remains the most popular method of consuming cannabis.
Safety Risks of Cannabis-Infused Edibles
Long-Lasting Effects
Cannabis-infused edibles have effects that last several hours longer than smoking. The THC amount ingested, the type and amount of last food consumed, and the types of drugs taken simultaneously determine the duration of the effects.
Unknown Strength
It is hard to measure the exact amount of THC. As such, many edibles have an unknown amount of this psychoactive compound. Regulations and approved methods of measuring THC amount and labeling products are non-existent. The outcome is an inaccurate dosage estimation for many THC edibles.
Many edibles contain much higher THC amounts than labeled. Users are likely to consume a higher amount of the drug than planned, increasing the risk of a marijuana overdose. In fact, a 2019 study published in the Annals of Internal Medicine found that edibles account for higher emergency room visits than other cannabis-infused products.
Minnesota Medical Marijuana Program Adds Edibles
Minnesota Department of Health (MDH) has added infused edibles as a new option for consuming medical cannabis in the state's medical cannabis program. The infused edibles will come in the form of chews and gummies. The current approved medical cannabis forms are pills, topicals, liquids, vapor oils, powdered mixtures, and lozenges.
The new delivery method will be available from August 1, 2022. Development of rules that will govern the entire end-to-end process has already started. The rules will guide product labeling, safety massaging, packaging, and rigorous testing.
MDH Position on Qualifying Medical Conditions for Medical Marijuana
Management of anxiety or panic disorders using medical marijuana remains illegal in Minnesota. This decision follows a comprehensive review, including a research review of anxiety disorder or panic disorder as an eligible medical condition. The MDH office did not approve the addition because of a lack of solid evidence to back effectiveness, coupled with concerns raised by health care practitioners who treat and interact with patients with anxiety disorders every day. The presence of more unintended consequences to the patients than perceived benefits also informed the MDH's decision.
Edibles: How Much Is Legal?
A patient with a qualifying medical condition can use edible cannabis. The patient must have received permission and certification from a licensed and recognized physician. Medical marijuana is legal in Minnesota. Recreational use of marijuana is, however, illegal in the state.
Registered medical marijuana patients can possess marijuana edibles that can last up to 30 days. The permission does not give patients the go-ahead to grow their marijuana. Marijuana cultivation is illegal even for permitted medical marijuana patients. They can only purchase legal medical marijuana from dispensaries owned by licensed distributors.
Marijuana Laws in Minnesota
Recent changes to Minnesota marijuana laws include clauses approving the addition of smokable marijuana and edibles as options for consuming medical marijuana. Edibles and Smokable marijuana legalization will be exciting news for registered patients who cannot tolerate, afford, or access other permitted forms. Patients under the Minnesota medical marijuana program will soon use edibles and smokable marijuana to keep their medical conditions under control without committing any offense.
Minnesota Drug Charge
A drug charge carries potentially dire consequences in Minnesota. Apart from hefty fines and jail time, a convicted person may face unexpected consequences like losing voting rights and challenges in securing employment. A person facing a drug charge in Minnesota has a better chance of avoiding a conviction by working closely with a drug crime lawyer.
The lawyer will guide the accused person on how to beat a drug charge in Minnesota. The lawyer may, for instance, compile and present evidence to demonstrate that the arresting officers violated the defendant's Miranda Rights or conducted an illegal search or seizure.